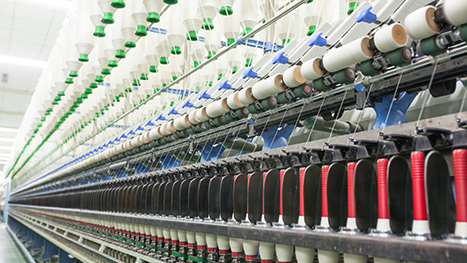 In cooperation with their German partner BE.ST GmbH, PRIMIX recently obtained a very large order for the supply of almost 200 mono tube heat exchangers that are going to be used in a production process for synthetic fibres. This order is the largest lot-size order that PRIMIX has ever received in its history.
PRIMIX is known for its static mixers, that ensure optimal mixing of liquids and gasses in many industrial processes. Possibly less well known is the version whereby the mixer is used as a heat exchanger. For this implementation, which is very effective for viscous components, the spiral shaped mixer elements from the static mixers are not only used for mixing product but also for a simultaneous and uniform heat exchange.
Production of synthetic fibres
Because of the proven performance of similar and earlier applications, the leading producer of synthetic fibres preferred PRIMIX again above its competitors. The jacketed heat exchangers that have been ordered will be applied in a parallel process, whereby the in-line mono tube configuration ensures a homogeneous mix, with which high quality fibres can be produced. The fibres are eventually used in carpets in particular.
The production of heat exchangers takes place within the PRIMIX facility in Mijdrecht, in the Netherlands, and are due to be shipped during the course of 2017.
PRIMIX heat exchangers with ACT – for example for PET yarns
For specific applications, such as the production of PET yarns, the spiral mixer elements from the heat exchanger can be combined with the PRIMIX Advanced Connection Technology (ACT). This allows for a substantial increase in the heat transfer coefficient, whereby 20 to 100% more heat transfer takes place than in conventional heat exchangers. In this way, the heat exchanger provides an even faster cooling or heating with a very uniform heat transfer and simultaneous product mixing.
More information about PRIMIX heat exchangers
Please contact your local PRIMIX partner for more information about the possibilities with the PRIMIX Advanced Connection Technology heat exchanger configuration or read more about the heat exchanger for processing polymers, plastic or fibres.