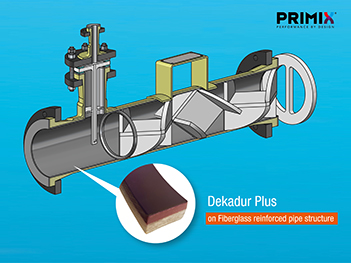 The Rotterdam based AKZO Nobel factory recently started to operate a PRIMIX static mixer which features a Dekadur Plus liner. The lined mixer allows for continuous mixing of corrosive chemicals at higher temperatures, and is extremely suitable for hydrochloric acid and brine related processes.
Dekadur Plus liner - the new and innovative lining material
For this project a Fiberglass reinforced (GRP) static mixer is produced for injecting and mixing of HCl in a brine solution. A mixing application which, due to process conditions, is often carried out at higher temperatures. From the background of the corrosive substances, a protective liner was essential for this application. The static mixer is lined on the inside with Dekadur Plus which offers considerable advantages; the liner not only allows operating temperatures up to 90°C, but also ensures substantial cost savings compared to alternative chemical resistant metal housings.
Practical and maintenance-free
For this application, the injector nozzle is completely removable. Just like the mixing element it is made of PTFE material and precisely tailored to the application. The PRIMIX static mixers are characterized by their high degree of efficiency and maintenance free operation.
PRIMIX for quick delivery
Engineering and delivery of this customized GRP static mixers was achieved within 8 weeks. PRIMIX is a flexible organization and pays great attention to your delivery and logistics requirements. For standard mixing applications PRIMIX can even supply static mixers within 48 hr where desired.
For more information on static mixers with a Dekadur Plus liner or applications where corrosive chemicals, at high temperatures should be mixed in-line, please contact PRIMIX or your local PRIMIX partner.