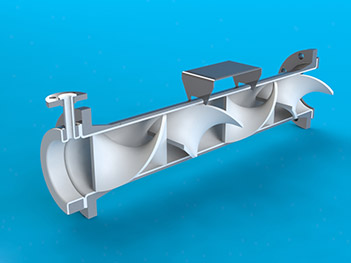 There are many chemical processes in which concentrated sulfuric acid (H2SO4) must be diluted to the required concentration. Applications can be found in the chemical industry, in scrubbers, but also in the in-situ extraction of minerals.
Safe mixer with good temperature control
Diluting concentrated sulfuric acid is an exothermic reaction. Because the injection point of a PRIMIX static mixer is positioned directly in front of the first mixing element and due to the flow profile of the mixing elements an immediate and full mixing takes place no hotspots will occur. This totally avoids overheating and possible damage to the plant. The design of the PRIMIX static mixer is precisely matched to the expected (and maximum) temperature increases, creating a very reliable process. As the diluted sulfuric acid concentration is very homogeneous at the outlet side of the mixer, downstream installations are not locally exposed to different concentrations of sulfuric acid. This will contribute to improved safety and durability of the entire system.
Cost efficient static mixer - materials
The PRIMIX static mixer for sulfuric acid applications is made from PTFE-coated carbon steel or stainless steel. This material and due to the unique construction shape the PRIMIX mixer provides a very good resistance to the corrosive action of highly concentrated sulfuric acid. No expensive materials, such as Hastelloy® C276 are required, which ensures that the mixer is very cost efficient. Since the injector is an integral part of the mixer it can immediately be used in the installation.
In-line dilution - dimensioned to the process
The static mixers for sulfuric acid are completely tailored to your process and available from large (500 mm) to small diameters (up to 25 mm). PRIMIX also supplies static mixers to dilute acids in Pilot Plant facilities. These mixers are often executed in Hastelloy® C276 and can be supplied depending to the process as small as 4 mm in diameter. These mixers are fully scalable to future process plants.
Globally proven
The PRIMIX concentrated sulfuric acid diluting mixer has been used in hundreds of installations worldwide and has certainly proven to be reliable and safe operation over the years. A lifetime of over 10 years certainly no exception!
More information about H2SO4 dilution
Contact PRIMIX to discuss your H2SO4 application or download the Case Study sheet H2SO4 dilution.
A quotation can be requested via the Static Mixer - Quote tool.