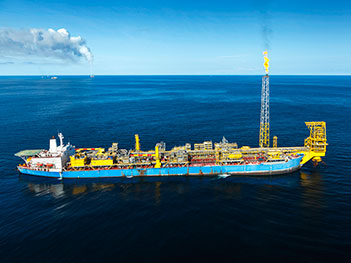 Process components on offshore installations for the extraction and production of oil, are subject to high standards. The PRIMIX static mixers are operated with great success in those installations and exposed to hydrocarbons, which may be often corrosive, organic-reactive or of high temperature.
In addition, the process components must be 100% explosion-proof, offering an exceptionally high operational reliability and to pose no risk to the environment.
Static mixers with DNV certificate for FPSO application
A common application is the offshore installation of a static mixer in a metering skid on a FPSO (Floating Production, Storage and Offloading vessel). Recently, PRIMIX, as part of a larger project, delivered a static mixer for a metering skid which has a DNV-GL certificate.
DNV-GL certificate and CE
The PRIMIX static mixers can be supplied with DNV-GL certificate for pressure vessels. The certificate is an independent proof of quality where the process components are classified and assessed by the DNV according to the specially developed DNV standards for offshore. The PRIMIX static mixers are also supplied with a CE marking.
Perfect mixing prior to the oil sampling
Within a metering skid, also referred to as a fiscal transfer skid, the crude oil has to be well mixed in order to carry out a very precise analysis of the oil, gas and water components and measure the correct water cut. A small inaccuracy can lead to very undesirable high costs. PRIMIX static mixers provide a very consistent and energy efficient mixing. The crude oil is, even at lower flow rates, mixed to a homogeneous mixture of oil and water droplets with a minimal pressure drop. The static mixer is maintenance-free and can be integrated with its small size in almost any fiscal metering system.
Other applications of PRIMIX static mixers in the offshore:
Desalting of crude oil with water (wash water mixers)
Mixing of additives in oil distillates - for this purpose, the static mixer is equipped with one or more injectors
Adjusting the viscosity of heavy fuel oil with gas oil
Mixing of chemicals
For more information about offshore, FPSO and fiscal metering applications please contact PRIMIX or your local PRIMIX partner.