Basic segment shapes of static mixers
Inside the PRIMIX static mixer design four basic segment shapes are used; the Spiral/helical shape, the Quatro shape, the V-shape and the X-shape. More segments form one strand of elements that are placed inside a tube. The attachment of the element strands can take place by means of high-quality welding or soldering techniques, but the elements can also be put in as demountable items. The cleaning of these static tubular mixers can take place totally externally. This can be very practical when processing extreme viscous media.
Characteristics of the mixing elements
Each element has process specific characteristics and depending on the process and the flow diameter a certain type of element will be chosen. Below you will find a short explanation of the segment shapes. You can contact PRIMIX for more information about the segment shapes that have been used in the static mixers.
PMS mixing element
Standard screw, helical or spiral shaped mixing element. (comparable to Kenics design)
For static mixers with a diameter of up to approx. 160 mm
Suitable for basic mixing applications, liquids and gas.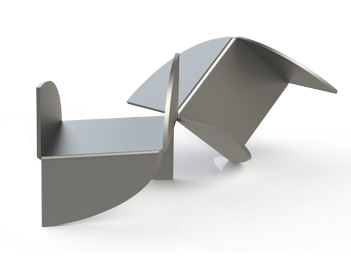 PMQ mixing element
Quatro shaped mixing element design
Performances equal to PMS
For static mixers with a diameter of approx. 160 mm to infinity
Suitable for basic mixing applications, liquids and gas.

PMX mixing element
X-crossed type mixing element design
Suitable for static mixers of all sizes
Relative high pressure drop and not totally free from blind spots
Very suitable for high viscosity mixing
Very good mixing and dispersion – for a very wide range of viscosity
Reduction of product degradation
Provides for a compact design of the static mixer
Suitable for the mixing of sensitive products, with minimal friction tension
No deposits or accumulation of materials because of cross mixing.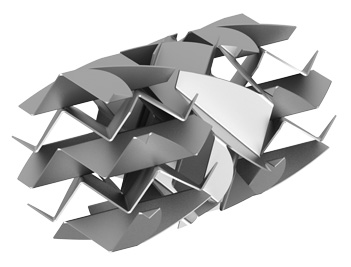 PMV mixing element
V shaped mixing element design
For static mixers with a diameter of approx. 50 mm to infinity
Very suitable for mixing gases or with large contact surface, mostly suitable for gas, but also for liquids
Suitable for large tube diameters
Suitable for short mixing lengths
Minimal space required for mixing or dispersion
Quick mass transfer through continuous renewal of the interfaces.
Elements provide turbulent or laminar mixing
Depending on the element chosen, mixing can be divided into turbulent and laminar. In case of turbulent mixing we are talking about mixing substances where the viscosity is watery or slightly higher. The flow speeds are relatively high. Radial mixing occurs relatively often, and a technical homogeneous mixture has already been obtained in a short section . Laminar mixing occurs with substances with a high to very high viscosity. The speeds are low and the pressure drops are high. Radial mixing hardly ever occurs. The mixing effects are concentrated around the transition of the mixing elements. There the two layers are forced to mix and then forced into each other so that four layers occur, and so on. At the menu item 'operating principle' you can read more about turbulent and laminar mixing.
Injectors
In processes in which the mixing ratios are wide apart from each other or in which physical material properties vary greatly, it is important to add the additive to the main flow via an injection unit. One possibility could be a centre line injection, but also injectors in the shape of a clarinet are interesting; the many possibilities can also be supplied as a demountable version . The advantage of an injector is that the additive is injected into the main flow at an ideal point, before the first mixing element, so that the mixing action takes place significantly more efficiently. PRIMIX can advise you in choosing the most ideal version for your application.
Product offer static mixers
The PRIMIX inline static mixers can, among others, be produced from the following materials:
(Low temperature) carbon steel and low alloyed steel, for example A106 Gr. B, A333 Gr. 6, A335 Gr. P11, etc.
Stainless steel, e.g. 316L(1.4404), 304L(1.4307), 321(1.4541), 316Ti (1.4571), etc.
PTFE or glass (glazed) covered carbon steel or stainless steel
Steel with fusion bond coatings or halar coating
Duplex & super duplex (1.4462)
Exotic materials such as: alloys, Hastelloy®, titanium, nickel, Incoloy®, alloys
Glass fibre reinforced synthetic materials (GRP) with a chemical barrier of uPVC, cPVC, PE covering
Synthetic materials, e.g. uPVC, cPVC, PP, HDPE, PVDF, PTFE
Silicate glass
Surface finish static mixers
The surface of the static mixers can be finished, treated or cleaned to specification. A number of treatment techniques are:
Staining and passivating
Grinding & glass-grit blasting or sandblasting
Honed finish for a perfectly smooth surface
Electrolytic polishing
Chromium plated
Ultrasonic cleaning
Applied flanges and connectors
The static mixers can be provided with various types of flanges and connectors. The connection will depend on the process, the tube diameter and the desired seal.
Connector type (more available on request)
Bevelled weld ends ASME B16.25
EN1092‐1 flanges. All types and pressure classes
ASME B16.5, B16.47 flanges. All types and pressure classes
Loose flanges and sleeves for plastic construction materials
Sanitary flanges, e.g. DIN11851, bio-connect, tri‐clamps, aseptic DIN11864, SMS
Thread ends, e.g. union joints, Swagelok®